A host of celebrities and entertainment professionals have signed an open letter to President Joe Biden calling for the release of hostages taken by Palestinian militant group Hamas, designated as a terrorist organization by the U.S.
Bradley Cooper, Amy Schumer, Gwyneth Paltrow, Chris Rock, Justin Timberlake, Madonna, Mila Kunis, Katy Perry, and Will Ferrell are just a few of the dozens of stars who have backed a new campaign called #NoHostageLeftBehind.
The Israel Defense Forces has said Hamas took 222 people hostage during its October 7 surprise attack on Israel. The Al-Qassam Brigades, Hamas' military wing, has estimated that between 200 and 250 prisoners were being held, most of them in Hamas custody, with the rest in the hands of other Palestinian factions in the Gaza Strip.
In recent days, four hostages have been released in pairs by Hamas. A source who was briefed on the most recent release of two hostages—and who spoke with Newsweek on the condition of anonymity—said the deal was made possible via mediation by Qatar and Egypt.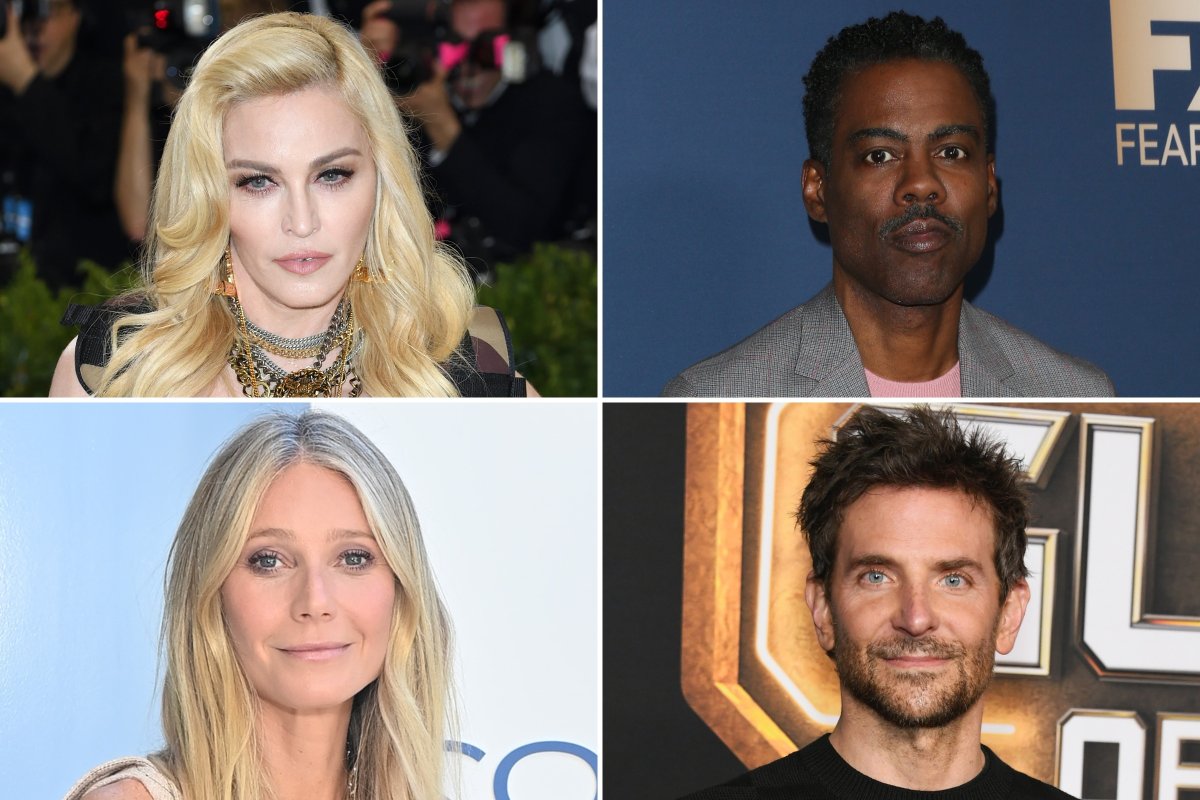 As Israel presses on with its heaviest ever bombing campaign against the densely populated Palestinian territory, the Al-Qassam Brigades have stated that 22 detainees had been killed in Israeli airstrikes, a claim met with skepticism by the IDF. The group has also said it was willing to release non-Israeli captives once it was safe to do so.
Hollywood stars on Monday declared that in their desire to see "freedom for Israelis and Palestinians to live side by side in peace," they want all of the hostages, no matter where they hail from, to be released.
In their open letter to Biden, the entertainment professionals commended the president for his "unshakable moral conviction, leadership, and support for the Jewish people," before urging "everyone to not rest until all hostages are released."
Full Letter to Biden
Dear President Biden,
We are heartened by Friday's release of the two American hostages, Judith Ranaan and her daughter Natalie Ranaan [Raanan] and by today's release of two Israelis, Nurit Cooper and Yocheved Lifshitz, whose husbands remain in captivity.
But our relief is tempered by our overwhelming concern that 220 innocent people, including 30 children, remain captive by terrorists, threatened with torture and death. They were taken by Hamas in the savage massacre of October 7, where over 1,400 Israelis were slaughtered—women raped, families burned alive, and infants beheaded.
Thank you for your unshakable moral conviction, leadership, and support for the Jewish people, who have been terrorized by Hamas since the group's founding over 35 years ago, and for the Palestinians, who have also been terrorized, oppressed, and victimized by Hamas for the last 17 years that the group has been governing Gaza.
We all want the same thing: Freedom for Israelis and Palestinians to live side by side in peace. Freedom from the brutal violence spread by Hamas. And most urgently, in this moment, freedom for the hostages.
We urge everyone to not rest until all hostages are released. No hostage can be left behind. Whether American, Argentinian, Australian, Azerbaijani, Brazilian, British, Canadian, Chilean, Chinese, Danish, Dutch, Eritrean, Filipino, French, German, Indian, Israeli, Italian, Kazakh, Mexican, Panamanian, Paraguayan, Peruvian, Polish, Portuguese, Romanian, Russian, South African, Spanish, Sri Lankan, Thai, Ukrainian, Uzbekistani or otherwise, we need to bring them home.
Full List of Celebrities Calling for Release
Adam & Jackie Sandler
Amy Schumer
Aaron Sorkin
Barry Diller
Behati Prinsloo
Bella Thorne
Ben Stiller
Bob Odenkirk
Bobbi Brown
Bradley Cooper
Brett Gelman
Chris Rock
Constance Wu
Courteney Cox
David Alan Grier
David Chang
David Geffen
David Oyelowo
Diane Von Furstenberg
Eli Roth
Emma Seligman
Eric Andre
Ewan McGregor
Gal Gadot
Gwyneth Paltrow
Harvey Keitel
Isla Fisher
Jack Black
James Brolin
Jason Blum
Jason Sudeikis
Jeff Goldblum
Jerry Seinfeld
Jesse Plemons
Jessica Biel
Jessica Seinfeld
Joey King
John Slattery
Jon Hamm
Jordan Peele
Josh Brolin
Judd Apatow
Judge Judy Sheindlin
Julia Garner
Julianna Margulies
Julie Rudd
Justin Theroux
Justin Timberlake
Karlie Kloss
Katy Perry
Kirsten Dunst
Lana Del Rey
Laura Dern
Liev Schreiber
Madonna
Martin Short
Michelle Williams
Mila Kunis
Nicola Peltz
Noa Tishby
Olivia Wilde
Orlando Bloom
Paul & Julie Rudd
Richard Jenkins
Rita Ora
Ross Duffer
Sacha Baron Cohen
Sam Levinson
Sarah Paulson
Sean Combs
Shira Haas
Sting & Trudie Styler
Taika Waititi
Thomas Kail
Tiffany Haddish
Tyler Perry
Will Ferrell
Andy Cohen
Alex Edelman
Amy Sherman Palladino
Aubrey Plaza
Barry Levinson
Billy Crystal
Brad Falchuk
Brian Grazer
Bridget Everett
Brooke Shields
Chelsea Handler
Chloe Fineman
Chris Jericho
Colleen Camp
David Schwimmer
Dawn Porter
Dean Cain
Debra Messing
Elisabeth Shue
Erin Foster
Eugene Levy
Gene Stupinski
Gina Gershon
Guy Oseary
Henry Winkler
Holland Taylor
James Corden
Jason Reitman
Jessica Elbaum
Jimmy Carr
Jonathan Ross
Josh Charles
Juliette Lewis
Kristen Schaal
Kristin Chenoweth
Lea Michele
Mark Foster
Mary Elizabeth Winstead
Matthew Weiner
Michael Rappaport
Molly Shannon
Noah Schnapp
Pattie LuPone
Regina Spektor
Sara Foster
Sarah Cooper
Scott Braun
Seth Meyers
Sharon Stone
Zack Snyder
Zoey Deutch
Zosia Mamet
Zoe Saldana
Alex Aja
Aaron Bay-Schuck
Amy Chozick
Aron Coleite
Adam Goodman
Alan Grubman
Adam Levine
Allan Loeb
Amy Pascal
Angela Robinson
Antonio Campos
Anthony Russo
Alexandra Shiva
Andrew Singer
Alison Statter
Alona Tal
Ali Wentworth
Ari Dayan
Ari Greenburg
Arik Kneller
Ashley Levinson
Asif Satchu
Barbara Hershey
Barry Rosenstein
Beau Flynn
Ben Turner
Ben Winston
Ben Younger
Blair Kohan
Bobby Kotick
Brad Slater
Bradley Fischer
Bruna Papandrea
Cameron Curtis
Casey Neistat
Cazzie David
Charles Roven
Chris Fischer
Christian Carino
Cindi Berger
Claire Coffee
Craig Silverstein
Dan Aloni
Dan Rosenweig
Dana Goldberg
Dana Klein
Danny Strong
Daniel Palladino
Danielle Bernstein
Danny Cohen
Daphne Kastner
David Bernad
David Baddiel
David Ellison
David Gilmour &
Polly Sampson
David Goodman
David Joseph
David Kohan
David Lowery
Deborah Lee Furness
Deborah Snyder
Donny Deutsch
Doug Liman
Douglas Chabbott
Eddy Kitsis
Edgar Ramirez
Elizabeth Himelstein
Embeth Davidtz
Emmanuelle Chriqui
Erik Feig
Evan Jonigkeit
Evan Winiker
Francis Benhamou
Francis Lawrence
Fred Raskin
Gabe Turner
Gail Berman
Gary Barber
Genevieve Angelson
Gideon Raff
Grant Singer
Greg Berlanti
Guy Nattiv
Hannah Fidell
Hannah Graf
Harlan Coben
Harold Brown
Henrietta Conrad
Howard Gordon
Iain Morris
Imran Ahmed
Inbar Lavi
Jackie Sandler
Jake Graf
Jake Kasdan
Jamie Ray Newman
Jaron Varsano
Jason Fuchs
Jason Biggs & Jenny Mollen Biggs
Jason Segel
JD Lifshitz
Jeff Rake
Jen Joel
Jeremy Piven
Jesse Itzler
Jesse Sisgold
Jill Littman
Jody Gerson
Joe Hipps
Joe Quinn
Joe Russo
Joe Tippett
Joel Fields
John Landgraf
Jon Bernthal
Jon Glickman
Jon Liebman
Jonathan Baruch
Jonathan Groff
Jonathan Tropper
Jonathan Marc Sherman
Jonathan Steinberg
Jonathan Tisch
Josh Goldstine
Josh Greenstein
Josh Grode
Julia Lester
Julie Greenwald
Karen Pollock
Kelley Lynch
Kevin Kane
Kevin Zegers
Kitao Sakurai
KJ Steinberg
Laura Pradelska
Lauren Schuker Blum
Laurence Mark
Laurie David
Lee Eisenberg
Leslie Siebert
Leo Pearlman
Limor Gott
Lina Esco
Liz Garbus
Lizanne Rosenstein
Lizzie Tisch
Lorraine Schwartz
Lynn Harris
Lyor Cohen
Mandana Dayani
Maria Dizzia
Mara Buxbaum
Marc Webb
Marco Perego
Mark Feuerstein
Mark Shedletsky
Mark Scheinberg
Mathew Rosengart
Matt Lucas
Matt Miller
Matthew Bronfman
Matthew Hiltzik
Matti Leshem
Dame Maureen Lipman
Max Mutchnik
Maya Lasry
Meaghan Oppenheimer
Melissa Zukerman
Michael Ellenberg
Michael Aloni
Michael Green
Michael Rapino
Michael Weber
Mike Medavoy
Mimi Leder
Modi Wiczyk
Nancy Josephson
Natasha Leggero
Neil Blair
Neil Druckmann
Nicole Avant
Nina Jacobson
Noa Kirel
Noah Oppenheim
Noreena Hertz
Odeya Rush
Oran Zegman
Pasha Kovalev
Paul Haas
Paul Pflug
Peter Traugott
Rachel Riley
Rafi Marmor
Ram Bergman
Raphael Margulies
Rebecca Angelo
Rebecca Mall
Reinaldo Marcus Green
Rich Statter
Richard Kind
Rick Hoffman
Rick Rosen
Robert Newman
Rob Rinder
Roger Birnbaum
Roger Green
Rosie O'Donnell
Ryan Feldman
Sam Trammell
Sarah Baker
Sarah Bremner
Sarah Treem
Scott Tenley
Seth Oster
Scott Braun
Scott Neustadter
Shannon Watts
Shari Redstone
Sharon Jackson
Shauna Perlman
Shawn Levy
Sheila Nevins
Simon Sebag Montefiore
Simon Tikhman
Skylar Astin
Stacey Snider
Stephen Fry
Steve Agee
Steve Rifkind
Susanna Felleman
Susie Arons
Todd Lieberman
Todd Moscowitz
Todd Waldman
Tom Freston
Tom Werner
Tomer Capone
Tracy Ann Oberman
Trudie Styler
Tyler James Williams
Vanessa Bayer
Veronica Grazer
Veronica Smiley
Whitney Wolfe Herd
Will Graham
Yamanieka Saunders
Yariv Milchan
Ynon Kreiz
Uncommon Knowledge
Newsweek is committed to challenging conventional wisdom and finding connections in the search for common ground.
Newsweek is committed to challenging conventional wisdom and finding connections in the search for common ground.